It's been a long time since Anchorman – perhaps Will Ferrell's best film to date – made audiences hysterical with laughter. Now, it appears a sequel has finally been put into motion.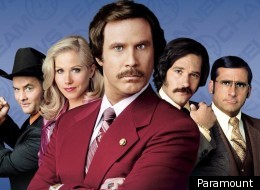 Yes, the film that had people saying "scotch, scotch, scotch … I love scotch", made the 'tache fashionable again garnered an appreciation for leather-bound books will have a follow up. The announcement was made in late March on Conan.
Most of the cast will be returning for the sequel but what exactly is the plot of this movie? In an interview with salon.com, director and co-writer of the original Andy McKay didn't reveal much, but from reading it you can get an idea of where the story might be going.
However, the phrase "custody-battle" was used, and so was "bowling for dollars" … so take that for what it's worth.
So, we'll have to wait and see as more comes out about Anchorman 2 which is slated to be released in 2013. It will probably be the most anticipated comedy sequel since The Hangover 2, and that's saying something.